– Press Information –
FOR IMMEDIATE RELEASE
March 22, 2015
Contact: Michael Stone, Suntility Electric, LLC
(508)566-6322; michael@suntilityelectric.com
(508)538-4-Sun – www.SippicanCommunitySolarGarden.com
The Sippican Community Solar Garden® is
Set to Power Up in a Matter of Weeks
Cooperative Enrollment Deadline Set for April 10th at 5:00 p.m.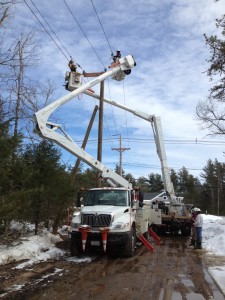 The Sippican Community Solar Garden project construction is all coming together. The utility has installed its new poles and wires to connect the site to their service. The transformer and main electrical components will be in place and connected on April 7th. The solar panel array installation will be complete on April 10th. With the subsequent inspections by the local and utility officials to be completed shortly thereafter, the system is on schedule to begin producing clean energy before the end of April.
"Despite the poor weather conditions…we are pleased with the remarkable progress made this winter; a true testament to the strength, experience and focus of our entire team." – Luke Hinkle, Manager Suntility, LLC, Founder My Generation Energy, Inc.
The Sippican Community Solar Garden® Cooperative has also seen dramatic growth. At its current rate of growth the Cooperative will be filled within weeks–well before the last panel is installed on April 10th. Between the list of those requesting the Cooperative to reserve them spots (SunRights™) and those already signed up, the total exceeds the number of SunRights™ available.
Therefore, today, the Cooperative is announcing an enrollment deadline of April 10th at 5:00 pm. Those missing the deadline may very likely be relegated to the waiting list.
Those interested in joining should contact the Cooperative at 508-538-4Sun or go to the Cooperative website, www.SippicanCommunitySolarGarden.com.
Sippican Community Solar Garden Facts
SunRights Available: 160 Total
– A Limited Number Remain & Are Going On A First-Come First-Served Basis
SunRight Price: $5,000
SunRight Estimated Average Monthly Value At Current Rates : $67.50
SunRight Estimated Total Value Received At 10 Years At Current Rates: $8,000
SunRight Net Metering Value Guarantee: $7,200
SunRight & Membership Term: 10-years
Who Can Join: Eversource Electric Account Holders In Southeastern Massachusetts
– The Cooperative Includes Members from Over 18 Towns
Project Location: Marion, MA
Anticipated Project Commissioning: April 2015
Project Size: Over 900 kW (Approx. 3,000 Solar Panels)
Anticipated Annual Electricity Production: 1,265,000 kWh
– Enough To Power Over 180 Massachusetts Homes
System Design & Installation: My Generation Energy, Inc.
On-going Maintenance & Monitoring Providers: My Generation Energy & Suntility Electric
Sippican Community Solar Garden Management: Suntility Electric, LLC
About My Generation Energy, Inc.
My Generation Energy is a Southeastern Massachusetts based installer and developer of solar facilities. In the past five years, My Generation Energy has installed over 4 MW of solar power (17,000 panels) including hundreds of residential and small commercial systems in over 20 towns. A significant portion of this portfolio was developed under the Community Solar Garden and Unutility Electric® models for local-investor-owned projects. My Generation Energy has established a track record for on-time management with flawless inspections.
About Suntility Electric, LLC
Suntility's experience on renewable energy projects spans nearly 200 systems across Massachusetts providing a range of management services for solar and wind facilities to maximize production and expand the community benefits of these clean energy sources. Suntility's renewable energy management clients include community shared solar organizations, non-profits, local business owners, finance organizations, commercial real estate investors, industrial property owners, municipalities, homeowners and more.
– ### –
Those interested in participating in the Sippican Community Solar Garden should call 508-538-4-SUN. Updates can also be followed on www.SippicanCommunitySolarGarden.com.