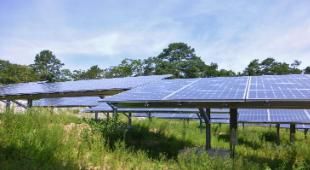 How can a community truly benefit from its own energy? With the simple throwing of a switch in Brewster three years ago, a fundamental switch in electricity generation was begun. That switch energized the Brewster Community Solar Garden® facility, and transformed how a community gets its electricity. Now in its third successful year, this revolution is expanding across the region.
The organization leading this breakthrough is the Brewster Community Solar Garden Cooperative. A Cooperative full of local members: a church; a liquor store; and dozens of residents. Why the interest in forming an electricity cooperative? Simple, the members enjoy sizeable savings on their electric bills from a local solar project in the town. And those benefits are real. Over the three years, the members have received even more savings than planned.
Now electricity rates are going up a whopping 29% for NSTAR electric customers in 2015. What does that mean for the Brewster Cooperative members? Well, they feel just a little smarter. Fortunately, as electricity rates rise, the savings for members also increase to keep pace. That's because the solar project is local and the electricity it generates for the Cooperative rises at the same utility rate—very clever indeed.
The Brewster Community Solar Garden Cooperative is a true success; however, this victory isn't the end of the energy success story.
The same team that developed and created the Cooperative in Brewster is forming another—and this one serves the entire region.
The Sippican Community Solar Garden Cooperative is the next, bigger, better thing in responsible, local energy. The basic program for the Sippican Cooperative is the same as in Brewster. The main difference is this new Cooperative is three times larger and membership is available to every NSTAR electric customer in Southeastern Mass. The Cooperative will provide a guaranteed savings to each member in the Cooperative. The savings are immediate and can be seen in black and white on your electric bills.
The Brewster and Sippican projects demonstrate that these electricity Cooperatives can make solar energy an option for everyone. Long gone are the days when the benefits of solar were only available to a small number of homeowners and businesses. Electricity rates are going up. But sunshine has always been a local free resource. When it's converted to electricity, everyone joining the Cooperative can benefit.
To learn more visit www.sippicancommunitysolargarden.com or call 508-538-4-Sun.